Hoppipola 
Acropolis Mall, Shop R-003, 4th Floor, 1858/1, Rajdanga Main Road, Shantipally, Kolkata
Are you craving for a soothing drink after a long, gruelling day at work? Treating your colleagues for your birthday? Well, Hoppipola is the number one place you can think of!
With an incredibly inexpensive 99-menu on Mondays and Tuesdays, everything you seek is INR 99 or less!
Keeping aside cheap beers and domestic liquor, there's so much more to taste, so much more to quench your thirst at throwaway prices. Rum, scotch, whisky, vodka, brandy and loads more: whatever you prefer, they get it for you at uber affordable prices. Johnnie Walker Red Label, kamikaze and tequila shots, and even sangria for just INR 99 !
What's New?
Everybody craves for a little more, a little extra, halfway through the week, mid-week blues, as we call it, right?
No worries. Hoppipola has got you covered.
Just in case you don't want to head home straight from work, book a cab and head straight to Hoppipola instead.
Because, trust me, Hoppipola is where you need to be on Thursdays from 8 pm onwards – that's when they have Karaoke nights! Old classics, desi hits or western music- choose your pick, because they do it all !
DJ The FlayBoy will be on music. He's super supportive and encourages his crowd by connecting with them and picks up the mic himself to add to the fun. Even the Hoppipola Staff grab the mic and sing along if the crowd is a little slow, in order to fizz up the atmosphere all over again!
Also read: (5 lesser known shopping websites which will do absolute justice to your clothing desires)
Shy? Too scared to get up on stage and song in front of everyone? Don't you worry, child. You can sit exactly where you are seated and sing your heart out. Most of the crowd sings along as well so you don't really have to worry about your cracked voice. (Plus, the crowd is almost always cheery. They love to sing along and will clap when you're done!)
10:30 pm is their wrap up time. So even if you're looking for an early yet fun night, you're covered.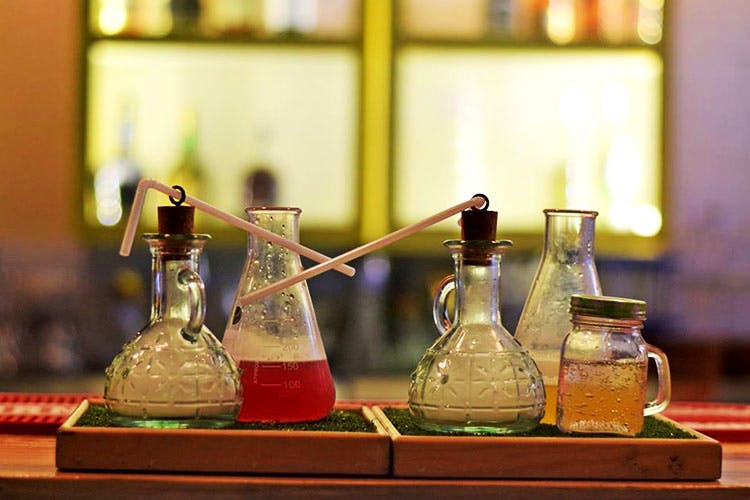 As of now, Karaoke nights are only on at Acropolis Mall. But Mani Square, we're only hoping, is going to join the unique group of clubs with Karaoke nights as soon as possible! (Fingers crossed)
Hoppipola has definitely got us covered on all sides. Getting drunk on a budget, singing crazy songs in the midst of strangers is not a myth anymore.